2020 Attractions
The Niles Haunted House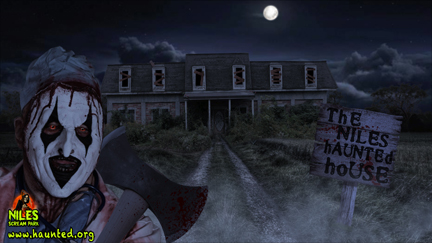 The Niles Haunted House is the largest and most popular of our attractions. It's the one that has been with us since the beginning! Before you even get to the massive house, you must make your way along a lonely, winding path with shaky bridges over dark ponds, foggy pacthes through trees and a completely blacked out guard building.
Once you get into the house, there are over 100 different paths through the attraction and it is impossible to see it all with less than seven trips. Each year the rooms, theme, sound effects and scares are changed to provide a fresh show! In 2020, you will experience several scary stories intended to be told in the dark!
After you've made it through the House, you still have to survive the "back swamp" which also has its own scares and monsters to frighten you.
The Basement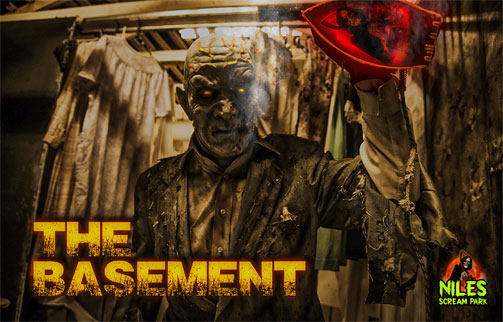 BREAKING NEWS! Police are stymied in the investigation of a missing reporter. The reporter, whose name is being withheld, is believed to have been investigating unusual activity connected to a 1920's ranch-style house. The home was constructed by the mysterious Flory family who all disappeared in 1952, leaving everything behind. The house was presumed to be abandoned but recent evidence has pointed to descendants of the family being alive! The investigaton was re-opened when someone came forward claiming to have escaped from the Flory house basement. Sheriff Taylor has released a statement that there is not enough evidence for a search warrant at this time. The public is warned to keep off the premises until further notice!
The Cursed Crusade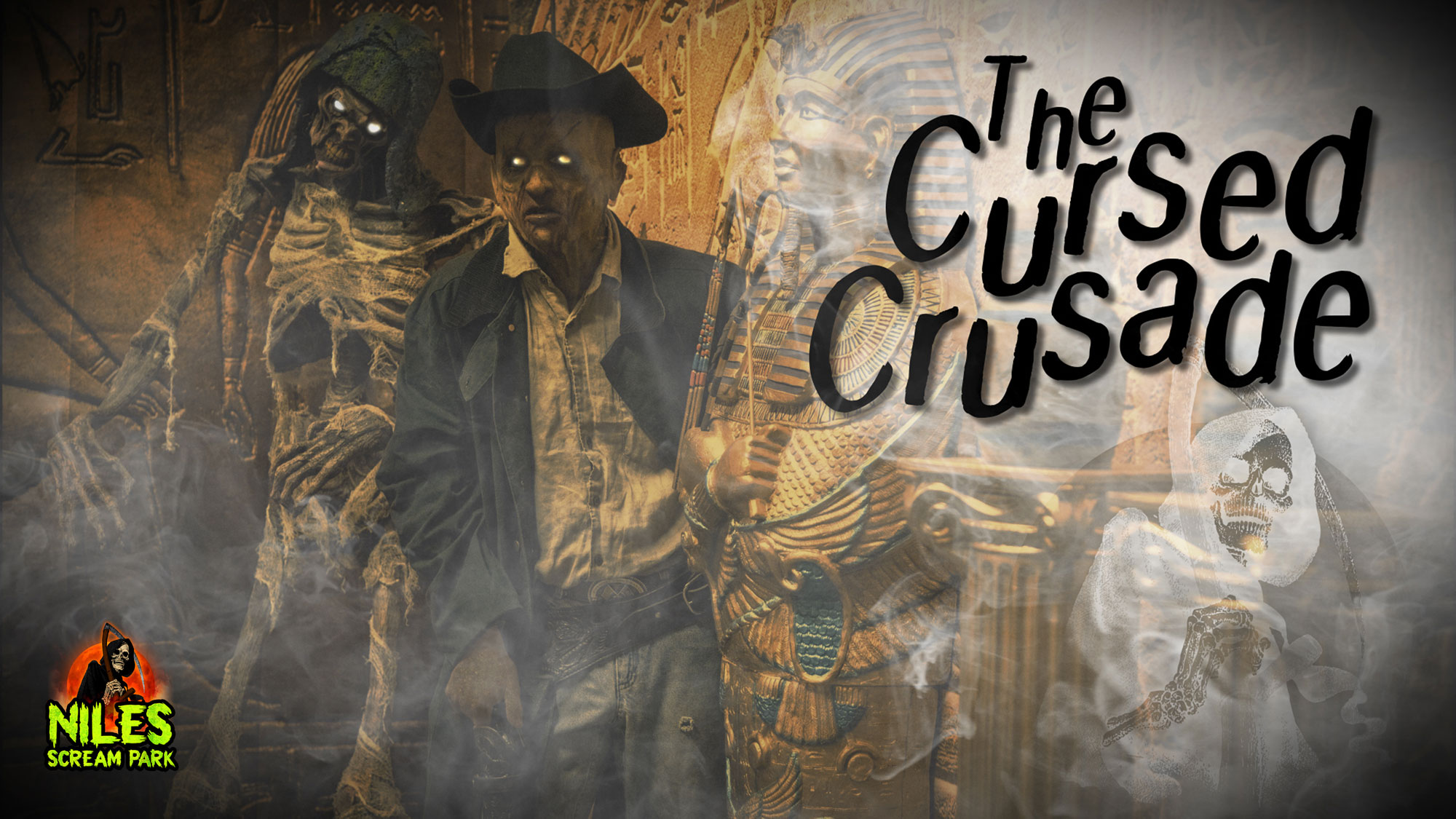 For generations, the Smith family passed down legends of an artifact with the power to control time. It was protected by guardians both living and dead to keep it from those who desired fame and fortune. In 1922, a team of archeologists led by Jimmy Smith followed the trail of clues to the previously undiscovered Tomb of Tutankhan, rumored to be the last location of the powerful object. The team was never heard from again. Earlier this year, jimmy's grandson, Elliot Smith, set out on a quest to find his grandfather or what happened to him. But now he's gone missing too!
The Field of Screams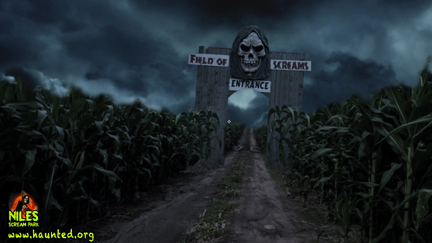 Considered one of our most popular attractions, even a GPS won't help you find your way out of this series of outdoor mazes. Finding a way out means venturing through the forest, a massive cemetery and even an abandoned carnival. But once you're there, your problem becomes how to escape!
Dark Terror-tory Haunted Hayride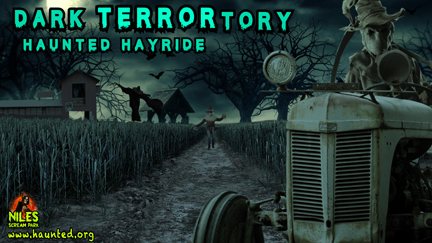 If the other attractions have you tired of running, you can get on board a tractor-drawn wagon and ride the Dark Terror-tory Haunted Hayride. The trail is approximately a mile long and filled with more than 30 sets that are woven together into a narrative that changes each year. A mix of humor and scares, the ride is certainly not a typical Fall hayride through quiet woods.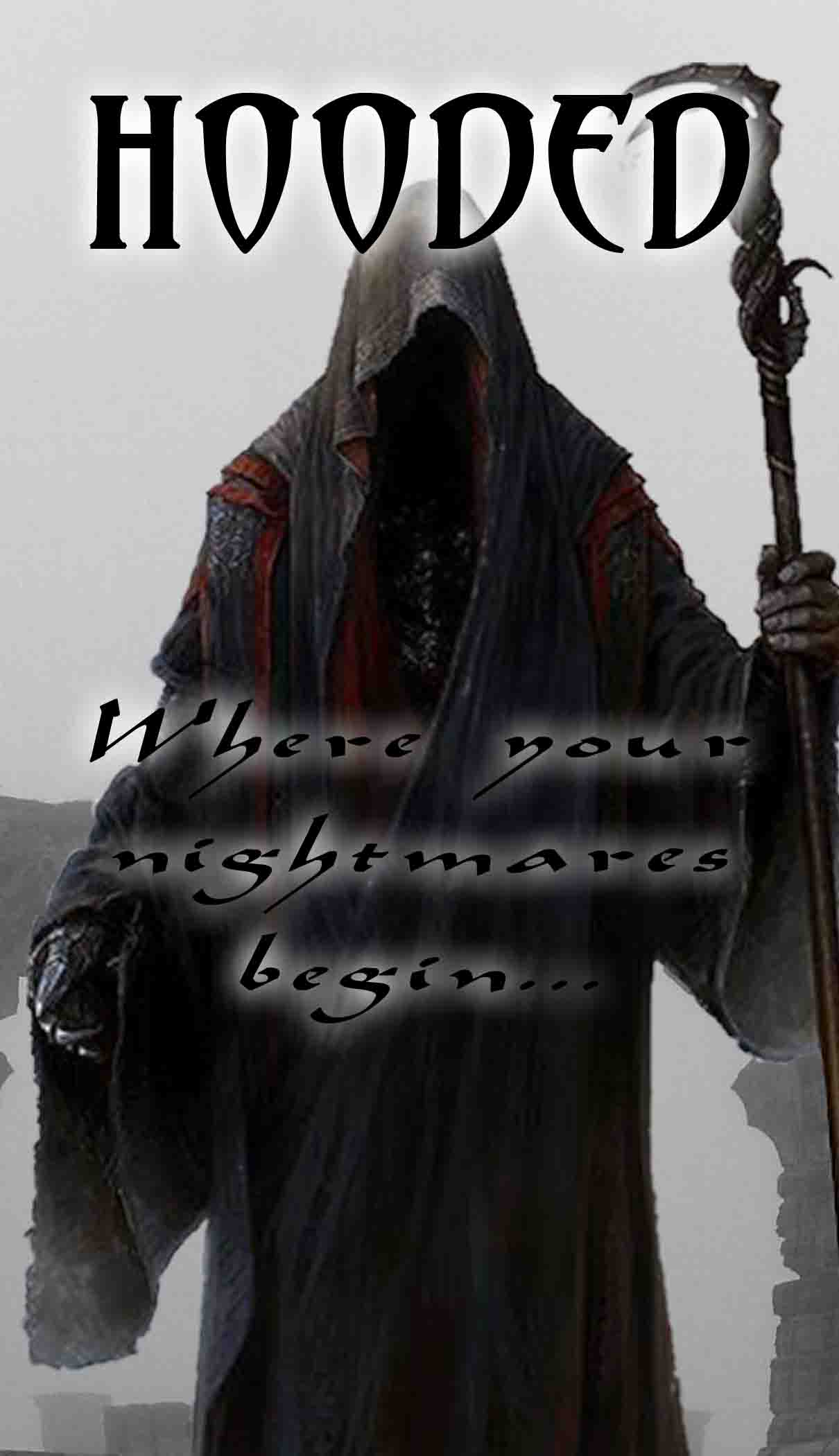 Hooded
Our most intense horror experience ever! Each patron is blindfolded and oh yeah, the actors can touch you! Adults 18 and older only. You must sign a waiver. (Click here to read waiver.) If you bail out of the attraction, you got what you paid for–an experience so intense you couldn't handle it! No refunds. No chicken out passes. Good luck!
This will be the final year of this attraction, so don't miss it!
Escape Rooms
Returning in 2020, the area's premier escape room company returns with new 5-minute puzzles that put you and your friends in the middle of a horror scenario. Work together to overcome your greatest fears before time runs out! Minimum of four tickets per session. You must make a time reservation at the Park.
---
And don't miss the happenings on the Midway!
Admission to the Midway is 100% free! There you will find an assortment of terrifying entertainment including:
Professional Entertainers
Music from R&S Entertainment and radio remotes.

Check the events page to see what entertainers will be on site the night you visit!
Ghoulish Games
The Last Ride: Step into a coffin, lay down and take the last ride you--and every person--will ever take. This "buried alive" simulator is an experience to die for! (And it comes with the death certificate to prove it.)

Spooky Splat Paintball Gallery: Shoot paintballs at targets! Our most popular game gives you the chance to hit some moving targets.
Things to Do
Monsters of the Midway: We unleash some of our most horrifying monsters to roam the Midway. It is fun to watch others get scared--just make sure it's not you!

Photo Opportunity: Go home with proof that you endured one of the scariest haunted houses in the country! Take a picture with your family and friends in a themed set to remember your visit forever. New last year, 3D pictures that really bring the fear to life!

Scream Park Theater: Grab some concession food, sit down on a hay bale and enjoy a Halloween-themed movie on the big outdoor screen!

Potions: Visit the "Poisoned Apple" where we have hand-crafted our potions (No we will not tell you how they are made) and have heard positive testimonies from our customers about our concoctions.

You'll be able to get potions for love, weight loss, money and other spells to help you in life. We also carry spells of a "darker nature." (Remember, we are a haunted attraction.) We also have hexes for your exs and summoning the dead.

Our most popular potion is for protection, so stop by and grab a bottle before heading into the Haunted House.

Sweet Screams!
Concessions
Concession Treats: We have several vendors on site that provide a variety of tasty foods and treats like hot dogs, burgers, fries, pizza, elephant ears, ice cream treats, hot chocolate and more.

Gift Shop: All new and improved! You'll love the broader selection of Niles Scream Park apparel and Halloween items for sale at the Broomstick Boutique! Nothing better than a souvenir to keep the Nightmare alive!