2019 Attractions
The Niles Haunted House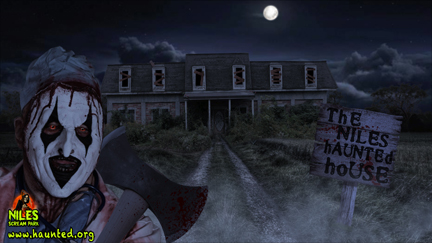 The Niles Haunted House is the largest and most popular of our attractions. It's the one that has been with us since the beginning! Before you even get to the massive house, you must make your way along a winding path with shaky bridges over dark ponds, foggy paths through trees and a completely blacked out guard building.
Once you get into the house, there are over 100 different paths through the attraction and it's impossible to see it all with less than seven trips. Each year the rooms, theme, sound effects and scares are changed to provide a fresh show!
After you've made it through the House, you still have to survive the "back swamp" which also has many scares and monsters to frighten you.
N'awlins Nightmare
Welcome to New Orleans at night! A popular destination for tourism, cajun cuisine and mystery. While the locals are very hesitant to share tales about Marie Laveau, you will journey through the dark streets and witness the Queen of Voodoo. After the sun sets, the stories come alive, but time will tell if you have what it takes to survive!
Deadwood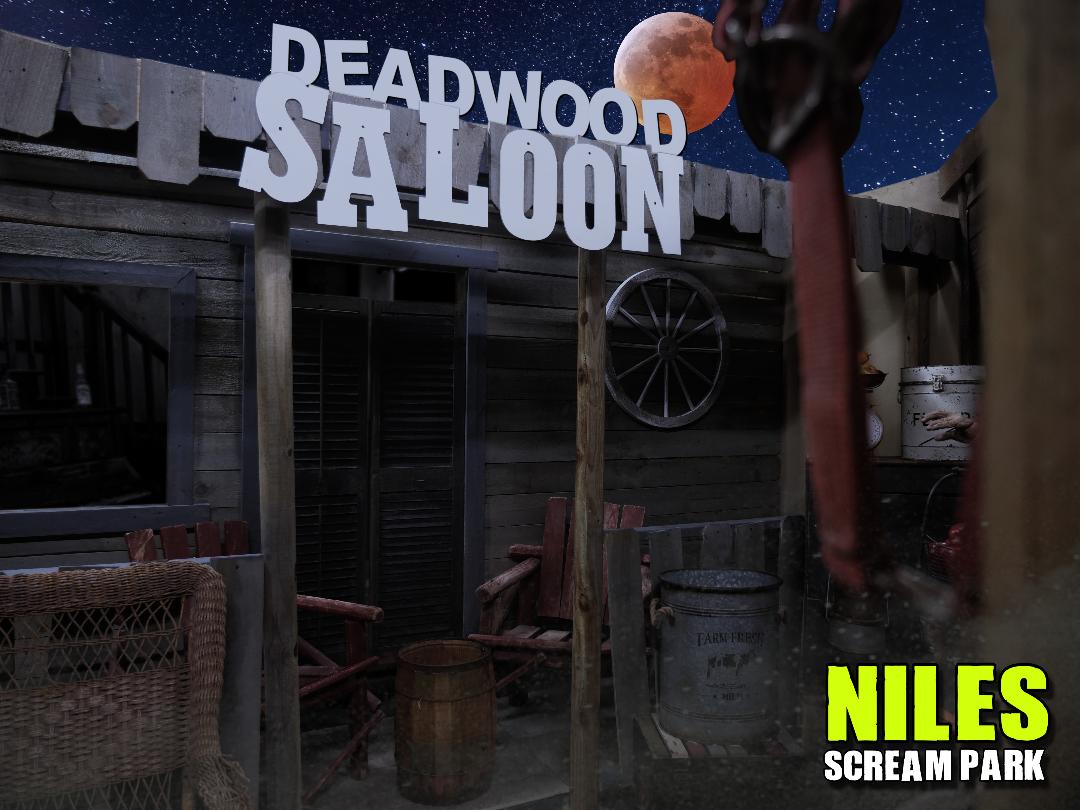 The Gold Rush brought with it tales of fortune and fame, but it was accompanied by unsavory visitors who brought murder and mayhem to the once quiet and peaceful town of Deadwood. The unfortunate followers of the Wild Bill gang seek to reclaim the glory days by whatever means necessary and you are in the thick of it. The price you pay may be your life!
The Field of Screams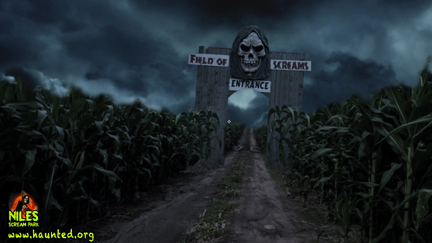 Always a crowd favorite, the Field of Screams is ready to scare you senseless again this year. With mazes to disorient you and classic killers out to get you, you will not come out the same person...if you come out at all! Our advice? Make sure your last will and testament is up to date!
You'll start your trip through the Field with a visit to a New Orleans style cemetery. After that you will encounter mazes, clowns, monsters and zombies. If you are lucky, eventually you will make it to the Voodoo Bayou and the Cabbibal Jungle.
If you are really lucky, you may make it to the final tunnel and hope the dark will keep the monsters off your tracks long enough for you to get out!
Dark Terror-tory Haunted Hayride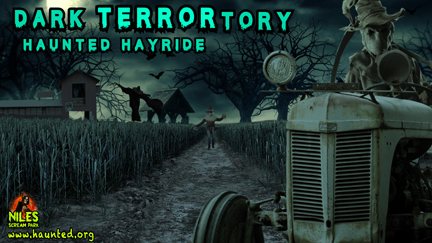 If the other attractions have you tired of running, you can get on board a tractor drawn wagon and ride the Dark Terror-tory Haunted Hayride. The trail is approximately a mile long and filled with more than 30 sets that are woven together into a narrative that changes each year. A mix of humor and scares, the ride is certainly not a typical Fall hayride through quiet woods.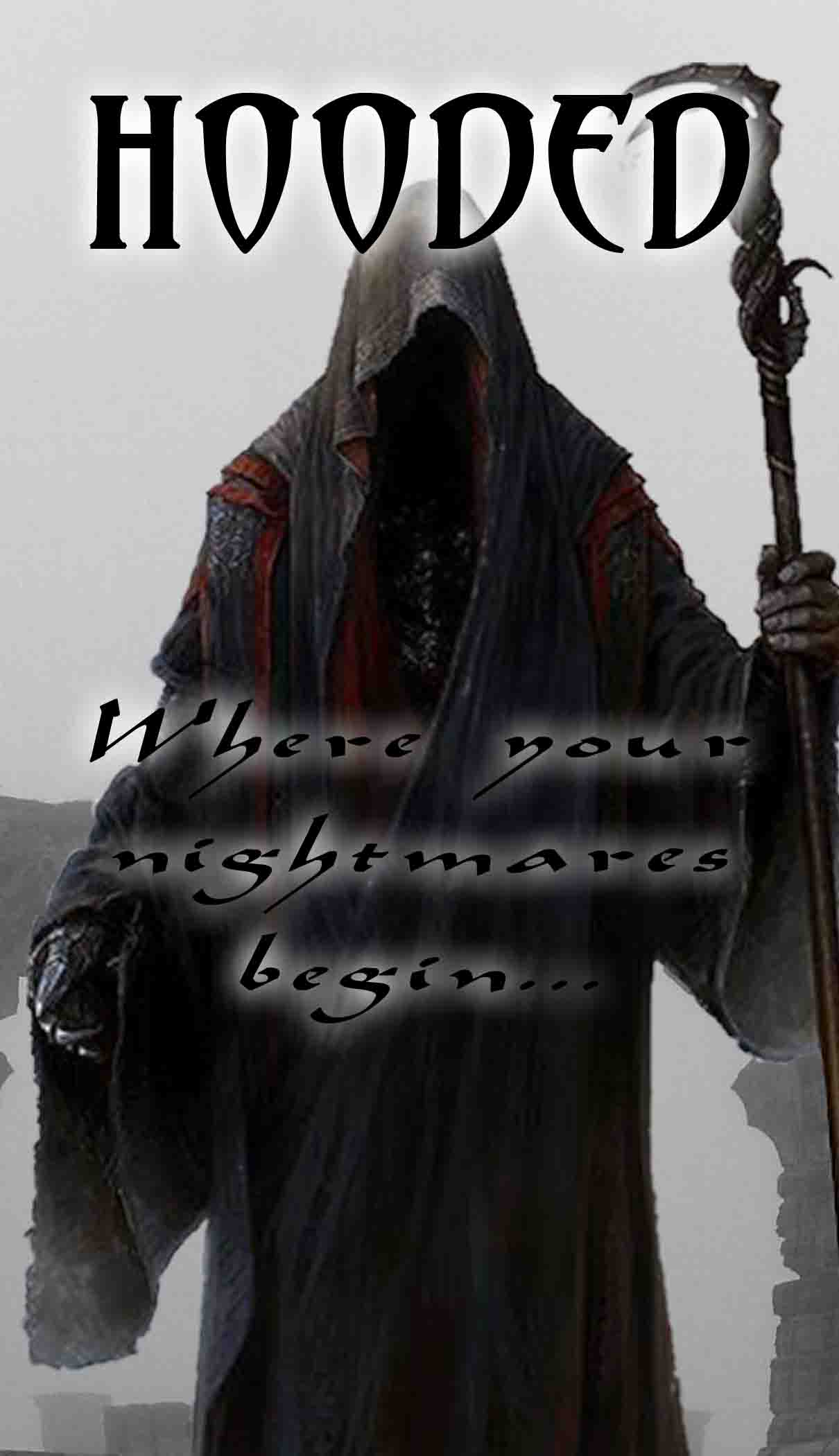 Hooded
Our most intense horror experience ever! Each patron is blindfolded and oh yeah, the actors can touch you! Adults 18 and older only. You must sign a waiver. (Click here to read waiver.) If you bail out of the attraction, you got what you paid for–an experience so intense you couldn't handle it! No refunds. No chicken out passes. Good luck!
Escape Rooms
Returning in 2019, the area's premier escape room company returns with new 5 minute puzzles that put you and your friends in the middle of a horror scenario. Work together to overcome your greatest fears before time runs out! Minimum of four tickets per session. You must make a time reservation at the Park.
---
And don't miss the happenings on the Midway!
Admission to the Midway is 100% free! There you will find an assortment of terrifying entertainment including:
Professional Entertainers
Music from DJ R3AM and radio remotes.

Check the events page to see what entertainers will be on site the night you visit!
Ghoulish Games
The Last Ride: Step into a coffin, lay down and take the last ride you--and every person--will ever take. This "buried alive" simulator is an experience to die for! (And it comes with the death certificate to prove it.)

Spooky Splat Paintball Gallery: Shoot paintballs at targets! Our most popular game gives you the chance to hit some moving targets.
Things to Do
Monsters of the Midway: We unleash some of our most horrifying monsters to roam the Midway. It is fun to watch others get scared--just make sure it's not you!

Photo Opportunity: Go home with proof that you endured one of the scariest haunted houses in the country! Take a picture with your family and friends in a themed set to remember your visit forever. New last year, 3D pictures that really bring the fear to life!

Scream Park Theater: Grab some concession food, sit down on a hay bale and enjoy a Halloween-themed movie on the big outdoor screen!

Museum: The Museum of Movies, Monsters and the Macabre is a tribute to the forgotten era of traveling side shows, the magic of movies and the dark side of American history. Inside you will bare witness to specimens of an obscure nature. You will see movie props and memorabilia from famous serial killers, gangsters, haunted dolls and even human remains!

The attraction is appropriate for young and the young at heart. We just ask that you not take any of our spirits with you.

Potions: Visit the "Poisoned Apple" where we have hand-crafted our potions (No we will not tell you how they are made) and have heard positive testimonies from our customers about our concoctions.

You'll be able to get potions for love, weight loss, money and other spells to help you in life. We also carry spells of a "darker nature." (Remember, we are a haunted attraction.) We also have hexes for your exs and summoning the dead.

Our most popular potion is for protection, so stop by and grab a bottle before heading into the Haunted House.

Sweet Screams!
Concessions
Concession Treats: We have several vendors on site that provide a variety of tasty foods and treats like hot dogs, burgers, fries, pizza, elephant ears, ice cream treats, hot chocolate and more.

Gift Shop: All new and improved! You'll love the broader selection of Niles Scream Park apparel and Halloween items for sale at the Broomstick Boutique! Nothing better than a souvenir to keep the Nightmare alive!